VVMCCSA will have a display at All British Day – Sunday 9 February 2020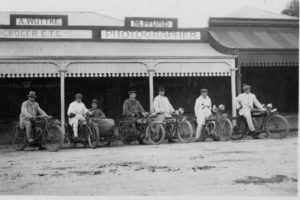 In this photo the number plates information- 9665 ( 1917) H A Rawolle Eudunda 4hp Indian, 9260 (1917) 4 hp Indian G H Wuttke Eudunda, 8518 3hp Precision, G A Genke Eudunda (but the bike is 3 1/2 Triumph), 8925 is as you say, M Pfund Eudunda, 6hp JAP, which is going to be a SA assembled bike of some description, could be a Bullock but they called them Bullock. J N Taylors just called theirs JAP. 7211 (1915) C A E Haseloff Eudunda 2 3/4 Minerva (but the bike is 4hp BSA ), 6844 (1915) E Wuttke, Eudunda 2 1/4 Minerva, (but the bike might be a 3 1/2 Humber ). These 'Minervas" were issued with those numbers in 1915, way after they were new, but could have been registering old machines, or more likely, registering ghost small motor machines to get a plate for a lower reg fee. That happened in farming country districts where bikes were more used on properties than on the road. Need a resident policeman (who probably did the same thing).
HAHNDORF MILL BREAKFAST RIDE – JANUARY 19TH 2020.
Let's start the New Year with a hearty breakfast at the Hahndorf Mill. Meet at the Feathers Hotel car park, corner Greenhill and Glynburn Roads Burnside at 8.00am. We will head straight up Greenhill Rd to Balhannah and then wind our way through to the Hahndorf Old Mill in the Main Street, to arrive by 9.00 am. If you wish to go by car or go straight there please be at the Mill by 9.00am.
The cost to members will be $10, members partners $10 and non-members will be $15. If you are going to the Breakfast please let me know at the January general meeting. If you are not at the meeting please contact me on 040908 3436, need numbers for catering reasons.
After breakfast Brett Mitchel will lead a ride through the hills to finish on the outskirts of the suburbs, maybe even at a coffee shop or bakery.
If the forecast temperature is 35c or above the ride part of the event will be cancelled, so just go there in your car in air con comfort as they will be catering for us.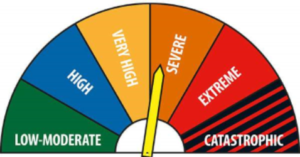 If the days temperature in of 35c or higher and declared then we do not ride – drive there if safe.
Looking also for a volunteer to tow the recovery trailer, $60 towards your fuel cost. Please contact me 040908 3436 if you can help please.
Distance is 30km from Feathers Hotel to Hahndorf Old Mill.
Ian HESE Club Captain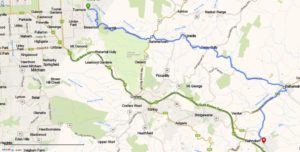 Hahndorf map ride.
*********************************************
Saturday morning coffee meet – Members meet at 09.30hrs on the 1st Saturday of the month at Cafe de Villis. Check club magazine or email [email protected] for location as it might change from time to time?
Thursday morning rides.Tea Tree Gully Hotel for a 10.00hrs start on the first Thursday of each month. They will be riding thru the eastern hills including a wee coffee stop along the way. No rides on severe-extreme-catastrophic days
Links to various forms and information.

65th Anniversary registration of interest form.

If you are interested or will attending, please print off the form, complete it and return.
Membership application form – 2019 – VVMCCSA – membership and info flyer about the club
Club Rally Form

.

VVMCCSA rally entry form –

this form must be filled out before you ride your motorcycle in a club even.
MR300B – declaration for exemption from surrendering number plates – If for some reason you need to lay-up your historic registered motorcycles for repairs – restoration or other reason and you wish to retain the number plate currently issued, complete this for and deliver to a DETI office.
Corner Marshal information. For members desiring to be a corner marshal on a club ride, please read this corner marshal duties about the do and don'ts. But you need to be trained and qualified to perform this important position.
Welcome information
Welcome to the home page of The Veteran and Vintage Motor Cycle Club of South Australia. The VVMCCSA Club was formed in 1956 with the objectives of preserving, restoring and using Veteran, Vintage & Post Vintage Motorcycles. We are an active club of over 300 members, catering for veteran, vintage and classic motorcycles.
Machines must be at least 30 years old in the current year to be eligible for Club Events and historic registration.
We have Historic Vehicle Registration facilities for club eligible motorcycles.
Our Monthly magazine – Smoke Signal can be seen and read under the heading of Smoke Signal.
Our monthly meetings are at the Payneham RSL Club, 360 Payneham Rd, Payneham commencing 8 PM on the second Tuesday of the month.
Visitors will be made most welcome – you don't need to own an old motorcycles to be a member and participate in club activities.
The Club is one of the oldest in the country, having celebrated our 55th Anniversary Rally in 2011. Each month we have a ride of members going north, east and south from Adelaide or a nearby town and most ride are through the picturesque Adelaide Hills.
One of the Club's activities is its annual Motorcycle Only Swap Meet at the Balhannah Oval each year. Fancy a week of historic motorcycling in the South Australian countryside?