The Veteran and Vintage Motorcycle Club of South Australia
Welcome to the home page of The Veteran and Vintage Motorcycle Club of South Australia. On this home page you will find information about membership, banking details, future Club Runs, special weekly runs, coffee morning, and the incredible club magazine the 'Smoke Signal'.
'Oil leaks ignored—lies and mistruths about speed and reliability accepted',
The original club flag still flying. Committee wish all members a happy and safe Christmas and New year.
The recent passing of Ian Baldock Nr21, Life member and the passing of Anna Hill wife of Bob Hill Life Member – Nr7.
Ian Baldock in 2009 was awarded 'Life Membership' of the VVMCCSA for meritorious services. Ian has had over 35 years continuous membership, Vice President, Committee member for two motorcycle shows, Committee member for all Sellicks Beach meetings, Provided RAA premises for Sellicks Beach committee, Club captain for four years, first club regalia officer and many other involvements.
Anna Hill, has had a few years with health problems before that she was very much in Club events and was a lovely lady. It is fitting that our Club members are informed of her passing as she was well known to many members over the early years. Regards, Peter Allen Nr8
All things in British, a special day to come and see British Made Motorcycles.
*****************************************************
Membership for 2022-2023 is still $40.00.
NOTE – If you required postage of the Smoke Signal, then an extra $25.00.
Country membership — is $40, you will receive the Smoke Signal posted FREE to you.
Email of magazine is also available to all members – FREE.
Smoke Signal magazine for on line reading is also available further down on this home page.
Membership payment can be made at a General Meeting night, of by Bank transfer deposit.
Please state your Name & Membership number.
.
If you wish to join The Veteran and Vintage Motorcycle Club of South Australia, please print off the form, complete the details then email to [email protected]
Or post the application to –
Secretary, VVMCCSA PO Box 453, Marden 5070.
******************************************************
Submission of this rally form is required when you participate in a VVMCCSA club ride. Please complete the form and hand it to the Records Officer at a meeting or on the day at the ride, or email to – [email protected]
**************************************************************
VVMCCSA – future club rides & events
11th December 2022. Motorcycle Rider Association – Toy Run display Callington Oval.
VVMCCSA will have a display of our motorcycles at Callington Oval at the end of the ride. Come and enjoy the day and visit out site please. If you are to display a motorcycle, be there before 0900hrs. Brian Forth 0409 514 213.
************************************************
Sunday 18th December 2022 – END OF YEAR CHRISTMAS RIDE.
We will meet at the Balhannah Oval in time for a 10am start.
It will be through the central/eastern hills area. The roads have mainly an 80kph limit and are in the main, quiet backroads.
There will of course be some hills and corners to negotiate, but that's part of the fun of riding motorcycles. The corners vary from sections of fairly tight, to long sweepers. The climbs are generally fairly long and gradual with no major sharp climbs.
After the riders briefing, we will turn left out of the oval gates and then left again at Oakbank. Here is probably the longest, steepest climb of the ride. After joining Swamp Road, we then turn right at Lenswood to Lobethal and right again at the start of the main street, onto the Woodside Road.
It will be straight on at the next big roundabout, where we will have regroup. Then along the Ridge Road behind Woodside to meander out onto the Bird in the Hand Road and to go through to Harrogate.
A right turn will be made at Harrogate and follow this now all bitumen road, to turn right at Old Princes Highway to get to the refreshment stop in the main street of Nairne.
There is a choice of several cafes/bakeries to get your morning tea. We will be there about ½ hour, depending on the arrival of the sweep trailer. Watch for the corner marshals leaving.
With full tummies and the tall stories still ringing in the ears we will turn off the main street opposite the new shopping centre to go out past the Mt Barker Summit. Then through some roundabouts in Mt Barker, around the edge of the houses to Hawthorn Road and eventually turn left towards Echunga.
Turning right we will go along the road towards Mylor, turn right into River Road and through 2 roundabouts to Verdun, and back to the Oval at Balhannah.
After the start, Veteran or lower powered machines can go straight on at Oakbank, turn right at the Riverview Road to re-join the main route at the back of Woodside. After morning tea, you can then go straight through on the Old Princess Highway to Littlehampton, turn right and back to Balhannah. This route is about 50km total and will miss the steeper climbs.
As this is the last ride of the year and Christmas is the following week end, we will celebrate with lunch available at the Oval after the ride and Kris Kringle presents. We will be freshly cooking hamburger rolls with your choice of salads for lunch. The cost for this is $5 for the hamburger, including a can of drink.
To take part in the Kris Kringle gift giving, just bring a wrapped gift to the value of $10. Males bring a male gift and females bring a female's gift. We will collect them before the ride, so you don't have to carry them around with you and will be handed out during lunch time.
Not compulsory but we encourage you to take part for a bit of fun and Xmas cheer.
Total distance of the main route is 100kms.
Will be looking for corner marshals on the day and someone to tow the
recovery trailer please, for the usual fee of $60 towards petrol.
Could you please let me know if you are coming for lunch, for catering
purposes, or if you can do the trailer duties.
Also don't hesitate to contact me for any other queries you may have.
Ian Hese, Ride leader. 0409 083 436
******************************************
Sunday 15th January 2023 – Breakfast at Cudlee Creek Tavern.
Start off the new year with a breakfast at Cudlee Creek Tavern with members and friends, then head off about 10.00am for a leisurely ride thru the Adelaide Hills. Details of the ride and map to come
***************************************
Old Crocks Ride' for veteran and vintage motorcycle build before 1930.
On the 3rd Thursday of each month those intrepid 'Old Crocks' and their V&V motorcycles gather at Federation Reserve in Gumeracha for a 10am start.
Members on younger motorcycle please attend and participate, but be prepared to allow for the 'Old Crocks' and their motorcycles slowly gain the speed to negotiate the hills and vales of the Adelaide Hills.
The ride is
usually

short and sweat allowing for a coffee stop than back to the start with petrol running low & exhausted.
just wait for it, it will start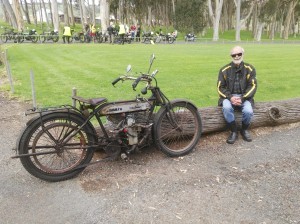 ***************************
Coffee mornings – a chance to refresh the mind over endless motorcycle discussions

.
on the 1st Saturday of the month we meet at How The Focaccia at Hindmarsh opposite Entertainment Centre from 9:15am – motorcycle can be parked next to the premises.
*******************
Thursday morning ride.
On the 1st Thursday of the month leaving 10am from Tea Tree Gully Hotel for a 10.00am start – destination is up to those who attend – suprise suprise suprise.
*********************************
New Postal address.
Secretary of VVMCCSA
PO Box 453
Marden 5070,
South Australia
***********************************************************
Resuming of club events.

Members, all club events including General Meetings, Club rides and coffee meeting have returned. But be mindful of Covid-19 requirements of social distancing and gathering numbers.
We will need to consider that the numbers do not exceed the new Covid-19 regulations. Members will be advised via email when activities will resume. Brian Forth – President.
************************************************************
Smoke Signal club magazine here-
January 2020 magazine for email
February 2020 magazine – email
March 2020 magazine – emailing
May 2020 magazine final – email
JUNE 2020 magazine final email
September Smoke Signal 614 – email
Smoke Signal October 2020 for email
November Smoke Signal for printing.
December Smoke Signal ready for printing
2021 Smoke Signal magazines
February 2021 magazine 619 -final – reduced
March 2021 magazine 620 – emailing
April 2021 magazine 621 – FINAL email
July 2021 magazine 624 – final
AUGUST 2021 magazine 625 – email
September 2021 magazine 626 – email
October 2021 magazine 627 – 65th edition email
November 2021 magazine 628 final email
December 2021 magazine 629 email with changes
2022
January 2022 magazine 630 – final email
JUNE 2022 magazine 635 – email
July 2022 magazine 636 – final email
August 2022 magazine 637 – email
September 2022 magazine 637 – email
October 2022 magazine 638 – final email
November 2022 magazine 639 – FINAL email
December 2022 – magazine 641 – final edition email
2023 magazines
January
February
*********************************************************
Links to various forms and information.
MR300B – declaration for exemption from surrendering number plates – If for some reason you need to lay-up your historic registered motorcycles for repairs – restoration or other reason and you wish to retain the number plate currently issued, complete this for and deliver to a DETI office.
For members desiring to be a corner marshal on a club ride, please read this corner marshal duties about the do and don'ts. But you need to be trained and qualified to perform this important position.
One of advantages of being a corner Marshall is to to watch and see members riding towards you, with the awesome sound of their motorcycle, along with clashing of gears as that veteran and vintage motorcycle slowly gaining speed as they ride on. When the back up trailer arrives, you then can join the ride.
*************************************************************************************************
Welcome information
Welcome to the home page of The Veteran and Vintage Motor Cycle Club of South Australia. The VVMCCSA Club was formed in 1956 with the objectives of preserving, restoring and using Veteran, Vintage & Post Vintage Motorcycles. We are an active club of over 300 members, catering for veteran, vintage and classic motorcycles.
Machines must be at least 30 years old in the current year to be eligible for Club Events and historic registration.
We have Historic Vehicle Registration facilities for club eligible motorcycles.
Our Monthly magazine – Smoke Signal can be seen and read under the heading of Smoke Signal.
Our monthly meetings are at the Payneham RSL Club, 360 Payneham Rd, Payneham commencing 8 PM on the second Tuesday of the month.
Visitors will be made most welcome – you don't need to own an old motorcycles to be a member and participate in club activities.
The Club is one of the oldest in the country, we are planning to celebrate our 65th Anniversary Rally in 2021. Still in the planning stage.
On the 3rd Sunday of each month we have a ride of members going north, east and south from Adelaide or starting at a nearby town and most ride are through the picturesque Adelaide Hills.
One of the Club's activities is its annual Motorcycle Only Swap Meet at the Balhannah Oval each year.
Library books are available for viewing and borrowing at every meeting – enquire with club librarian.
2020 – library list 1-100numlist