The Veteran and Vintage Motorcycle Club of South Australia
Welcome to the Home Page of The Veteran and Vintage Motorcycle Club of South Australia.

The VVMCCSA started by dedicated group of people dedicated on preserving pre 1930 Motorcycles.

The VVMCCSA 1st meeting 29 Nov 1956 at Playford Street Glen Osmond and the club was formed.

On this home page you will find information about membership, banking details, future Club Runs, special weekly runs, coffee morning, and the incredible club magazine the 'Smoke Signal'.

Join The VVMCCSA members and experience and the thrill of Veteran and Vintage motorcycle riding along with all types of Classic Motorcycles who are are most welcome to join in.

Brian Forth, President, VVMCCSA.

'Oil leaks ignored—lies and mistruths about speed and reliability accepted',

******************************************

17th September 2023 – Strathalbyn Flat Tank Society ride – see info below

*******************************************

Smoke Signal magazine – September 2023 magazine 650 – FINAL email

Melba's Chocolate Factory 21st April 1991

The 70th Anniversary Rally programmed for 2026, VVMCCSA seeking member to form a committee in planning for this incredible event.

***************************************************************
The 22nd Annual V&VMCCofSA Motorcycle-only Swapmeet will be held Sunday 1 October 2023.
This event, originating through efforts of and under the capable watch of longstanding V&V members Peter Yates and Stephen Hooper and then Bill Lorimer has been very popular over the years and sees people travel from all over SA, Victoria and even parts of NSW.
Amazing Swapmeet coffee is provided once again by Neil of Stir Express, food by Natura Foods of Mt Barker and Neil Shillabeer and volunteers of the Balhannah Combined Sports Club Kitchen.
I would like to remind members that this event helps to support efforts provided by your club throughout the year and so implore all interested members and friends to come along to Balhannah Oval but not before searching through their garages, sheds and lock-ups for anything of value that is motorcycle-only related to help other members or friends restore or keep their motorcycles on the road.
Gates open 7am
Buyer Entry is $5.
Seller Entry is $15 – (includes 1 x Adult).
Children 12 and under are free and please no dogs.
Camping permitted but no fires please.
Regards, Michael Griffin. Swapmeet Co-coordinator
Log Book Days

Information for members – Logbook days are completed, if you need your books endorsed.

1/ Attend a General Meeting, or

2/ Contact an Approved person nearest to you, details in the maghazine, or

3/ Post them in to the Secretary. Secretary, PO Box 453. Marden 5070

ALL Non-Eligible vehicles (<30 year bikes, cars, utes etc) will have to pay $2.00 if a new log book is required.

If members are mailing in those log books it is preferred that the money is included in payment of subscription by direct deposit and note on the mailed book that this has been done.

You must by the 1st July 2023 be a paid financial member of VVMCCSA when you have a vehicle on historic registration.

MAILING LOG BOOKS.

If you intend to mail your log books you must

1/ include a self-addressed and stamped envelope for return of your log book(s).

2/ Current or renewed registration certificate of the vehicle(s) involved

3/ Log book(s) for endorsement

4/ Membership card

Please be aware that there may be a delay of a few weeks before return of your books and if you need to ride your bike early in the financial year.

POST EARLY. Alternatively if you own a number of bikes you may consider retaining one or two log books to continue riding until your first batch of books have been returned.

***********************************************

Membership for 2023-2024

is now $45.00.
General Membership is $45.00.
Country membership – $45.00 – and you will receive the Smoke Signal FREE.
Joining fee is $15.00
Smoke Signal magazine postage. If you required postage of the Smoke Signal, then an extra $25.00.
Email of magazine is also available to all members – FREE.
Smoke Signal magazine for on line reading is also available – SCROLL down on this home page to fins current and old editions.
Membership payment can be made at a General Meeting night, of by Bank transfer deposit.
If using EFT – please email [email protected] of your payment amount, Name & Membership number.
.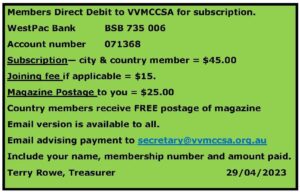 If you wish to join The Veteran and Vintage Motorcycle Club of South Australia, please print off the Membership Application form, complete the details then email or post to –
2023 VVMCCSA – membership and info flyer about the club new – $45.00 subs
Or post the application to –
Secretary VVMCCSA, PO Box 453, Marden 5070.
*************************************************
VVMCCSA have a very library with original and interesting information of most make of motorcycles
******************************************************
2021 – Rally Entry Form edit version Submission of this rally form is required when you participate in a VVMCCSA club ride.
Please complete the form at the following times – General Meeting, OR, down load the form here, print it and email to Secretary, OR on the RIDE DAY – print one off and hand it to the Records Officer at the start of a ride. Email to – [email protected].
**************************************************************
VVMCCSA – future club rides & events
August 2023
29th Committee meeting—7.30pm, Goodwood Community club.
September 2023
2nd Coffee at 'How the Focaccia' at Hindmarsh.
7th Midweek ride— Tea Tree Gully Hotel leaving 10.00am
12th General meeting 800 8pm Payneham RSL clubrooms
17th *** Strathalbyn Flat Tank Society Ride. A ride designed for Veteran and Vintage, tiddlers etc, BUT all makes and model are welcome to enjoy a 'slow' ride.
Flat Tank Society Members.
The 6th Flat Tank Society Ride is on for Sunday 17th September 2023
Ride starts at 10am from Goodyear Tyre and Auto Centre, 12 Rankine Street Strathalbyn.
Leaving Strathalbyn, we travel on Nine Mile Road to Milang, turn right onto the Clayton-Milang Road, ride thru Clayton now on the Finniss-Clayton Road to the Finnis Store distance about 50kms.
Finnis Store rest and refreshments. From Finniss along the Finnis-Milang Road to Milang, turn right onto Nine Mile Road, then left onto Milang road and continue to and turn right Davidson Road, travel and turn left onto Leslies Road, to the junction with Langhorn Creek Road near Borman Turf business for a re-group a distance of about 41kms.
We then travel on the Langhorne Creek Road back to Strathalbyn the finish at Goodyear Tyre Centre.
What to expect. All roads are bitumen and back roads and reasonable flat, with minimal traffic but the occasional sheep. The most important aspect of this ride it that it is flat riding country especially designed for veteran, vintage and tiddler motorcycles. There will be no stress on the rider or the motorcycle thus allowing you can sit back, rest and cruise along at your own pace.
Members there is nothing stopping you to bring out any make, model and CC size for this ride. Just come and enjoy the relaxed pace of the day.
Any Veteran and Vintage Flat tankers, girder fork and tiddlers riders are encourage for this is your chance to bring them out for that spring jaunt.
We are still hoping we are to be lucky to experience a CZ smoke haze, or the roar of a Bantam or two?
I am seeking a tour leader, someone who can ride faster than an old HD.
If you are up to the challenge please attend.
Regards. Brian Forth. Organiser not the tour leader. Ian Hese your Club Captain.
21st 29th Old Crocks' Veteran ride—10am, Federation Park Gumeracha
26th Committee meeting, 7.30pm Goodwood Community Club.
***************************************
Monthly rides for old and classic motorcycles
Old Crocks Ride. Old Crocks Ride is for veteran and vintage motorcycle build before 1930.
On the 3rd Thursday of each month those intrepid 'Old Crocks' and their V&V motorcycles gather at Federation Reserve in Gumeracha for a 10am start.
Members on younger motorcycle please attend and participate, but be prepared to allow for the 'Old Crocks' and their motorcycles slowly gain the speed to negotiate the hills and vales of the Adelaide Hills.
The ride is
usually

short and sweet allowing for a coffee stop than back to the start with petrol running low & exhausted rider.
just wait for it, it will start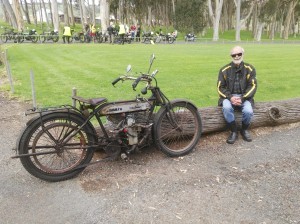 ***************************
Coffee mornings – a chance to refresh the mind over endless motorcycle discussions

.
on the 1st Saturday of the month we meet at How The Focaccia at Hindmarsh opposite Entertainment Centre from 9:15am – motorcycles can be parked next to the premises.
*******************
Tea Tree Gully Hotel – Thursday morning ride.
On the 1st Thursday of the month leaving 10am from Tea Tree Gully Hotel for a 10.00am start – destination is up to those who attend – surprise surprise surprise. This ride is open to any motorcycle of any age, and you are welcome to enjoy the ride.
*********************************
New Postal address.
Secretary of VVMCCSA
PO Box 453
Marden 5070,
South Australia
***********************************************************
Resuming of club events.

Members, all club events including General Meetings, Club rides and coffee meeting have returned. But be mindful of Covid-19 requirements of social distancing and gathering numbers.
We will need to consider that the numbers do not exceed the new Covid-19 regulations. Members will be advised via email when activities will resume. Brian Forth – President.
************************************************************
Smoke Signal club magazine here-
January 2020 magazine for email
February 2020 magazine – email
March 2020 magazine – emailing
May 2020 magazine final – email
JUNE 2020 magazine final email
September Smoke Signal 614 – email
Smoke Signal October 2020 for email
November Smoke Signal for printing.
December Smoke Signal ready for printing
2021 Smoke Signal magazines
February 2021 magazine 619 -final – reduced
March 2021 magazine 620 – emailing
April 2021 magazine 621 – FINAL email
July 2021 magazine 624 – final
AUGUST 2021 magazine 625 – email
September 2021 magazine 626 – email
October 2021 magazine 627 – 65th edition email
November 2021 magazine 628 final email
December 2021 magazine 629 email with changes
2022
January 2022 magazine 630 – final email
JUNE 2022 magazine 635 – email
July 2022 magazine 636 – final email
August 2022 magazine 637 – email
September 2022 magazine 637 – email
October 2022 magazine 638 – final email
November 2022 magazine 639 – FINAL email
December 2022 – magazine 641 – final edition email
2023 magazines
January 2023 magazine 642 – final edition – email
February 2023 magazine 643 – final email
March 2023 magazine 644 – final email version
April 2023 magazine 645 – final – email
May 2023 magazine 646 – FINAL for email
June 2023 magazine 647 – final EMAIL
July 2023 magazine 648 – FINAL email
August 2023 magazine 649 – Final – email
*********************************************************
Links to various forms and information.
MR300B – declaration for exemption from surrendering number plates – If for some reason you need to lay-up your historic registered motorcycles for repairs – restoration or other reason and you wish to retain the number plate currently issued, complete this for and deliver to a DETI office.
For members desiring to be a corner marshal on a club ride, please read this corner marshal duties about the do and don'ts. But you need to be trained and qualified to perform this important position.
One of advantages of being a corner Marshall is to to watch and see members riding towards you, with the awesome sound of their motorcycle, along with clashing of gears as that veteran and vintage motorcycle slowly gaining speed as they ride on. When the back up trailer arrives, you then can join the ride.
*************************************************************************************************
Welcome information
Welcome to the home page of The Veteran and Vintage Motor Cycle Club of South Australia. The VVMCCSA Club was formed in 1956 with the objectives of preserving, restoring and using Veteran, Vintage & Post Vintage Motorcycles. We are an active club of over 300 members, catering for veteran, vintage and classic motorcycles.
Machines must be at least 30 years old in the current year to be eligible for Club Events and historic registration.
We have Historic Vehicle Registration facilities for club eligible motorcycles.
Our Monthly magazine – Smoke Signal can be seen and read under the heading of Smoke Signal.
Our Monthly Meetings are at the Payneham RSL Club, 360 Payneham Rd, Payneham commencing 8 PM on the second Tuesday of the month.
Visitors will be made most welcome – you don't need to own an old motorcycles to be a member and participate in club activities.
The Club is one of the oldest in the country, we are planning to celebrate our 70th Anniversary Rally in 2026. Still in the planning stage.
On the 3rd Sunday of each month we have a club ride for members going north, east and south from Adelaide, or starting at a nearby country town and most ride are through the picturesque Adelaide Hills. Distance is around the 100km mark, why this is the usual distance a Veteran or Vintage motorcycle petrol will allow it to go. A support trailer is always there following the ride.
Motorcycle only Swap meet. One of the Club's activities is its annual Motorcycle Only Swap Meet held on the Balhannah Oval each year on the October long weekend.
Library books are available for viewing and borrowing at every meeting – enquire with club librarian.
2020 – library list 1-100numlist