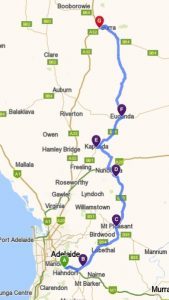 BURRA 2 DAY RALLY. MAY 18/19 2019 is on again.
There will be several pick up points on the way there, so as to make it easy to join in from wherever you live. Once again we will also have a start from Burra to ride back to meet those coming up from Adelaide, ideal for veteran, vintage, lower powered bikes or those that don't wish to do big distances.
The important thing is at this stage is your accommodation. You must book your own accommodation.
Suggest that you perhaps get together with other riders and book a cottage at the Paxton Square Cottages, cheaper per person. Most people stayed there last year. Also available is a motel, several country style hotels and B&Bs.
Departure and pick up points for larger/long distance bikes.
0900 hrs Crafers Hotel car park.
0920 Balhannah Oval.
1000 Mt. Pleasant Bakery/Institute.
1040 Angaston.
Morning tea at Angaston – Depart at 1115 hrs.
1115 hrs Angaston (Cnr Penrice Rd/Murray St).
1200 Kapunda – Pick up medium distance bikes. *** Car and trailer may be left outside 62 High St, Kapunda.
1240 Eudunda.
Lunch at Eudunda – Bakery, Service Station or hotel.
1330 hrs—Veterans leave Burra will leave from the Rotunda & travel to Worlds End Road to meet Eudunda mob and turnaround & travel back to Burra.
1400 Eudunda (Centenary Gardens) via Point Pass, Robertstown to Burra.
1500 Burra.
Sunday return will commence at 0930 hrs via—
Farrell Flat, Mintaro, Auburn (morning tea), Saddleworth, Marrabel, Kapunda, Nuriootpa and Mt Pleasant
Saturday morning coffee meet – on the 1st Saturday of the month – members ride their motorcycles to a venue and meet at 0930hrs coffee & chat at either Par3 cafe on War Memorial Drive Adelaide, or Cafe Vello in Adelaide Park lands – contact club for location as it might vary according to the availability of the premises.
Links to various forms and information.
Membership application form – 2019 – VVMCCSA – membership and info flyer about the club
Club Rally Form

.

VVMCCSA rally entry form –

this form must be filled out before you ride your motorcycle in a club even.
MR300B – declaration for exemption from surrendering number plates – If for some reason you need to lay-up your historic registered motorcycles for repairs – restoration or other reason and you wish to retain the number plate currently issued, complete this for and deliver to a DETI office.
Corner Marshal information. For members desiring to be a corner marshal on a club ride, please read this corner marshal duties about the do and don'ts. But you need to be trained and qualified to perform this important position.
Welcome information
Welcome to the home page of The Veteran and Vintage Motor Cycle Club of South Australia. The VVMCCSA Club was formed in 1956 with the objectives of preserving, restoring and using Veteran, Vintage & Post Vintage Motorcycles. We are an active club of over 300 members, catering for veteran, vintage and classic motorcycles.
Machines must be at least 30 years old in the current year to be eligible for Club Events and historic registration.
We have Historic Vehicle Registration facilities for club eligible motorcycles.
Our Monthly magazine – Smoke Signal can be seen and read under the heading of Smoke Signal.
Our monthly meetings are at the Payneham RSL Club, 360 Payneham Rd, Payneham commencing 8 PM on the second Tuesday of the month.
Visitors will be made most welcome – you don't need to own an old motorcycles to be a member and participate in club activities.
The Club is one of the oldest in the country, having celebrated our 55th Anniversary Rally in 2011. Each month we have a ride of members going north, east and south from Adelaide or a nearby town and most ride are through the picturesque Adelaide Hills.
One of the Club's activities is its annual Motorcycle Only Swap Meet at the Balhannah Oval each year. Fancy a week of historic motorcycling in the South Australian countryside?